1. Cordoba's History
As the capital of Al-Andalus, Cordoba stood as the most powerful and significant city not just in Spain but also in Europe during the "golden rule" of the Moors. Cordoba also boasts of a rich historical background – Iberian, Visigoth, Roman, Moorish, Jewish and Christian civilizations contributed to Cordoba's unique personality and vitality.
2. La Mezquita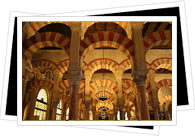 The grand Mosque of Cordoba is one of Spain's historical and architectural treasures and among the most visited sites in the country. Its marvelous design and its graceful columns and delicate arches are a wonder to behold. It is, without a doubt, one of the best examples of Islamic architecture in Spain.
3. UNESCO World Heritage
Cordoba offers a wealth of historical treasures that caused it to be declared a UNESCO World Heritage Site. Chief of these attractions is the La Juderia (Jewish Quarter), a quaint and authentic setting of flower-filled patios and cobblestone streets. La Juderia is part of the Cordoba's historic quarter, which is one of the largest such quarters in Europe.
4. Location
Cordoba sits at the heart of Andalusia (Southern Spain) and has long served as a strategic point when traveling throughout the region. It is near the other must-see cities in Andalusia, such as Granada, Seville, Malaga and Marbella. The province of Cordoba also has a lot of picturesque towns and cities that are well worth a visit.
5. Culture, Art, and People
Cordoba has a lot to boast of in terms of culture, music and art. It is the birthplace of the philosopher Seneca, the Jewish physician Maimonedes, and Averroes. Cordoba's historic quarter is considered the largest in Spain. Cordoba is also home to the International Guitar Festival, as well as the largest olive groves. You will get to witness two of the staples of Spain's culture – flamenco and bullfighting. What's more, there is a popular saying that most of the beautiful women in Spain are from Cordoba.
6. Weather
With its pleasant weather all year round, anytime is a good time to go to Cordoba. You can sit and relax while enjoying an al fresco meal. You can even enjoy a wide variety of outdoor activities such as golfing, biking, hiking, or horseback riding. In Cordoba, the days are almost always filled with warm sunshine – a sure way to help make you enjoy your stay.
7. Festivals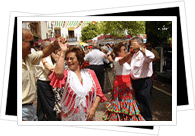 Fiesta time! Be sure to go to Cordoba during one of its festivals – the Feria de Cordoba, Semana Santa (Holy Week), Cruces de Mayo (May Crosses), the flower-filled Festival de los Patios, the International Guitar Festival and the Cata de Vino. Get to know how Cordobans celebrate their special days and it will make your stay special indeed!
8. Museums
Cordoba's museums cover a wide range of interests and subjects, such as art, history and science. There is the Archaeological Museum that sits inside a Renaissance palace. It boasts of a grand exhibit of Iberian, Roman, Visigother, Mudejar, Renaissance and Muslim eras. Drop by the Bullfighting Museum which pays tribute to renowned bullfighters like Machaquito, Monolete, El Cordobes, Lagartijo, and Guerrita. Fascinated about jewelry? Visit the Regina Museum, which houses ancient jewelry, particularly those made in Cordoba. After visiting these museums, there are still so many things to see and discover in Cordoba's other museums.
9. Nightlife
I love the nightlife! Cordoba offers a delightful smorgasbord of dance-til-you-drop all nighters, contemplative evenings, fiery flamenco nights, and so much more. Take your pick. Rest assured, Cordoba is geared up for your maximum enjoyment.
10. Outdoors
Cordoba is not just about historical monuments and museums. Its outdoors and natural surroundings is absolutely breathtaking. Hiking, biking, waterskiing or hunting are just some of the ways you can enjoy nature in this side of Spain. There are plenty of natural parks and gardens in and and around Cordoba. Ah… it's heaven for nature lovers and those looking for some relaxation.