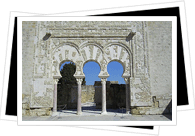 Medina Azahara, Cordoba's 10th century version of the Versailles, was a palace of indescribable luxury that took 25 years to complete. It is a palace-city built by the caliph Abd al-Rahman III. Constructed eight kilometers outside of the city in the foothills of the Sierra Morena, the Medina Azahara served as the seat of power for the entire al-Andalus. It was also the personal residence of the Caliph and his court.
If what remains is any indication of Medina Azahara's history, it was absolutely magnificent. There is a virtual procession of arches and columns made of blue and red marble, with vegetable motifs in marble and limestone. One historian even writes of walls made of falling water, domes and columns made of crystal, and even a fountain made of flowing mercury- a liquid mirror.
The Medina Azahara itself was built in such a way that it followed the contour of the mountain. Thus, the entire property was divided into three parts: the palace stood on one lot, the landscape of vegetable and fruit plots sprawled across the second lot, and on the third stood the houses and the mosque.
Sadly, the Berber mercenaries took over the Caliphate, at which point they looted and plundered the palace. What was left was then pillaged by the neighboring townspeople. Bit by bit, the ruins were buried in mud. Soon, the palace was forgotten for 900 years; it was unearthed in 1911. The remains underwent extensive reconstruction, although the reconstruction of the entire palace and its grounds has yet to be completed.
What has been reconstructed of the Medina Azahara certainly merits a trip. You can still see the foundation, the columns and many paintings. In 1923, the Medina Azahara was declared a national monument- come see why!
Visit the Medina Azahara:
September 16 to April 30: Tuesdays to Saturdays: 10:00 a.m. to 6:30 p.m.
Sundays and public holidays: 10:00 a.m. to 2:00 p.m.
May 1 to June 15 Tuesdays to Saturdays: 10:00 a.m. to 8:30 p.m.
Sundays and public holidays: 10:00 a.m. to 2:00 p.m.