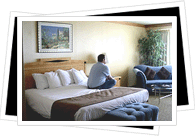 What do you like to call "home" in Cordoba?
Cordoba, Spain has a great selection of hotels, hostels and apartments. There is sure to be one that will fit your budget and your taste. Most hotels exude an old-world flavor, as these are often housed in centuries-old buildings, complete with patios, fountains and gardens. Still, there are more modern hotels and hostels. Yes, there is a wide range of accommodation options for you.
A word of warning, though. Book your hotel or hostel well in advance. Cordoba is a popular tourist destination and hotel and hostel rooms may not be easy to get without prior reservation. During festival seasons, especially Holy Week, nothing short of a miracle will help you get a room at short notice.