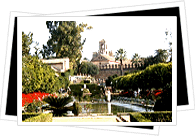 The city center is a busy and modern section that is a fine example of how the modern mixes with the historical. One such example is the Ayuntamiento (Town Hall), which sits in the ruins of a Roman temple.
The city center stretches from the rail station located at Avenida de America down to the Plaza de las Tendillas. These, and other streets and squares, are the centers of most of the city's festivities. Also, as Cordoba's financial and business district, you are never too far away from shops, restaurants and cafes! Meander along the interlacing streets - Avenida del Gran Capitan, Ronda de los Tejares, Jose Cruz Conde - throughout this section, where you are sure to find something to buy, to eat, to drink and to enjoy!
The center is just a short walk to the more famous tourist attractions such as the Mezquita and the Alcazar. However, Cordoba's city center has its own charm and gifts to offer – be sure not to miss it!