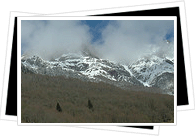 Cordoba belongs to the inland and lowland zone of Andalusia, in the south of Spain. The summer months of June, July, August and September yield sizzling days and sultry nights. July and August are the hottest months, with temperatures reaching a scorching 104º F(40ºC) during the day and 64º F (21º C) at night. Rainfall is sparse.
The days become cooler as October approaches and the rains become heavier, although sunny days easily outweigh rainy ones. The nights are also considerably cooler, so don't forget to bring warm clothes when you go out at night. The months of December and January are the coldest. Heavy rainfall is common during these months (about one in three days!)
All in all, summers are hot and winters are mild. The pleasant weather in Cordoba makes it a year round destination. At anytime during the year, you can enjoy dining and drinking al fresco and many of the outdoor activities available in Cordoba.
Cordoba Weather: Average Temperatures by Month
| Month | Maximum (ºC / ºF) | Minimum (ºC / ºF) |
| --- | --- | --- |
| January | 23 / 73 | 12 / 53 |
| February | 15 / 59 | 5 / 42 |
| March | 18 / 64 | 8 / 46 |
| April | 21 / 69 | 9 / 48 |
| May | 26 / 78 | 12 / 53 |
| June | 29 / 84 | 16 / 60 |
| July | 34 / 93 | 18 / 64 |
| August | 34 / 93 | 19 / 66 |
| September | 36 / 87 | 17 / 62 |
| October | 25 / 77 | 13 / 55 |
| November | 18 / 64 | 9 / 48 |
| December | 14 / 57 | 5 / 42 |