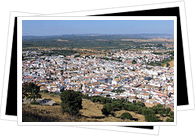 To the north of Cordoba, the Sierra Norte mountain range has much to offer, such as nature at its best, fascinating monuments and landscaped villages. The Sierra Norte includes the Sierra Norte Natural Park. It sits on the northern edge of the Sevilla province and is bordered by Huelva, Cordoba and Badajoz.
Here are some Sierra Norte towns that are of great cultural and tourist interest.
Constantina
A beautiful, tree-lined village within the Sierra Norte Natural Park, it used to be a significant Roman colony. Visit the La Encarnacion parish church, a 16th century structure with a façade designed by Hernan Ruiz.
Las Navas de la Concepcion
This mountain village lies in the border of Cordoba province. The village is quite pretty, with whitewashed houses covered in flowers. The places to visit are: the ruins of a Moorish castle and the church of the Purisima Concepcion, which have some fascinating 17th century sculptures.
Cazalla de la Sierra
A favorite haunt of Sevillians, Cazalla de la Sierra is a typical Andalusian village with whitewashed houses and tree-lined streets. This village is famous for its cherry brandy. Its church, the Iglesia Nuestra Señora de la Consolacion, has an unusual honey-combed vaulting and a renaissance chancel. Nearby, there is the Nuestra Señora del Monte Hermitage.
El Pedroso
A village within the Sierra Norte Natural Park, its historic buildings include the church of Nuestra Señora de la Consolacion, which is a 15th century church build on the remains of a Roman tower; the Cruz del Humilladero, which is built using one piece of granite; and the hermitage of the Virgen del Espin, a 16th century structure built in the Mudejar style.
Guadalcanal
Try to go at the end of August, when they will celebrate this village fiesta. The village itself is built on the grounds of a Roman and then Moorish ramparts. As for historical buildings, there is a hermitage, some notable churches and the former Hospital del Milagro.
Other Villages include: Alanis, San Nicolas del Puerto, El Real de la Jara, Almaden de la Plata, El Ronquillo, Castilblanco de los Arroyos, El Garobo, El Castillo de los Guardos, and El Madroño.