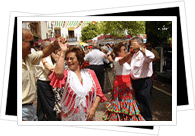 Spain is a country vibrant with color and tradition, a personality reflected in its music. Several centuries and civilizations later, Spain has developed its own identity and sense of style when it comes to music.
Cordoba offers no less. You will find music every which way you turn. From its bars, taverns and tapas bars to its festivals, music is a central facet of Cordoba's unique culture.
One illustration of Cordoba's artistry and love for music is its famous six-stringed Cordoba guitar. It is known worldwide that Cordoba guitars are made with careful attention to detail and craftsmanship. Cordoba is also not just home to flamenco, but to other genres as well.