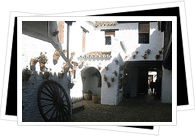 Cordoba City is not the only jewel of its province. There are other towns and cities that make Cordoba a province filled with wonder and beauty.
Puente Genil
Puente Genil sits near the boundary of Seville and Cordoba. This is a small town of just around 28,000 inhabitants. It is famous for its Flamenco Song Festival, the Festival de Cante Grande. Travel to Puente Genil is made simple by the fact that it is on the Cordoba-Malaga railway.
Priego de Cordoba
This town is said to be among the most picturesque in the province. It has wide olive orchards and cathedrals built in the
Baroque
style. From the city, you can also see the beautiful Subbetica Mountain Range. Exploring this town is a joy as it also have whitewashed houses placed along narrow pathways.
Montilla
It is known for its wine, which is, well, called the Montilla wine. This wine is white and dry and is also called Amontillado. Grape orchards abound in this town and you can have an exciting time visiting its wine cellars.
Luque
This is a town that is highly developed and prosperous. It is also close to the La Subbetica Natural Park. The town also boasts the mixed
Gothic
and
Renaissance
La Asunci Church. It has several vineyards and orchards as well.
Lucena
Lucena is famous for its furniture manufacturing. It even holds the record for having the largest chair in the world, which stands six meters high! There are plenty of churches to visit, chief of which is the San Agustin church, which has an oval layout.
Iznajar
At 1,200 years old, this town's hightlight is the fascinating set of castle ruins. It is also close to the souther boundary of the province, with access to the Sierra Subeticas Natural Park.
Cabra
Cabra traces its history back to the Paleolithic age and at one point served as the capital during the Roman Empire. Now, it is a main producer of olive oil. Cabra also has the Asuncion y Angeles Church which is a mosque that was turned into a cathedral.
Baena
Another town known for its olive oil production. It also celebrates the
Holy Week
in an unforgettable way – hundreds of drums struck together all at the same time.
Aguilar de Fontera
Small and pretty, there are a lot of delights to be found here, such as an ostentatious baroque monastery church, a
Renaissance
parish church (Santa Maria del Soterrano) and an octagonal plaza surrounded by historic buildings.