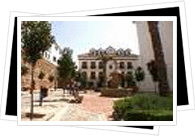 Baroque architecture is very much part of the design most Spanish structures, especially cathedrals. Baroque architecture is predominantly about stylized facades, ornate and twisting columns and altered shapes.
In the Mezquita, the Cathedral that sits in the center of the mosque has magnificently designed pulpits and choir stalls. The pews are made in the Churrigueresque (a specific extremely stylized branch of the Baroque trend) and are designed by Pedro Duque Cornejo. The minaret has also been restyled into a Baroque bell tower.
The 17th century Descalzas Convent is also in the Baroque style. It has excellent plasterwork and a baroque clock tower. Meanwhile, the Iglesia de San Pablo has an imposing black baroque entrance in its chapel of the Pilar Virgin. Other religious building that sport the baroque style are the Las Descalzas Convent and the two chapels inside the Santa Maria del Soterraño Church.

Plaza de San José
Construction on the octagonal Plaza de San José began in 1813. The famous architect from Salamanca, Vincente Guttierez, designed this plaza, expertly incorporating the Baroque and Neo-classical style.
Las Descalzas Convent
This cloister with Baroque architecture was erected in the year 1671 and is bedecked with imposing works of art, plaster and carvings.
Santa Maria del Soterraño Church
Legend has it that the holy image of Mother Mary appeared in the underground cavern during the construction of this church, and hence explains its name. The the Santa Maria del Soterrano parish church is affluent with architectural accomplishments. The Gothic building was designed by the first Hernan Luiz in 1530 and there are two chapels of Baroque design inside the church. First is the El Sagrario chapel erected in 1639, and the Jesus Nazareno, built in 1730.