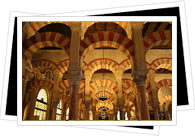 Renaissance architecture in Spain features graceful patios and classic, simple columns. This style is originally from Italy and were most often appended to existing Gothic structures.
In the Mezquita, the cathedral in the middle of the mosque was embellished with a soaring Renaissance dome and decorations. The mihrab or prayer hall was remodeled with Renaissance influences as well.
Other Renaissance structures in Cordoba include the Casa de las Bulas (location of the Bullfight Museum); the beautiful palace that houses the Archeological Museum; and the parish church of Santa Maria del Soterrano.