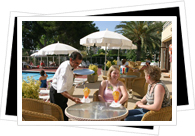 Holy Week is a deeply religious and meditative event. This is, after all, the week leading up to Easter and the Cordobans (as well as the other locals in different cities and towns in Spain) take it rather seriously. There are daily processions made by the costaleros, who carry images of the Virgin Mary and the Passion of the Christ through the narrow streets of Cordoba. Along with these images are masked and barefoot penitents and people bearing candles. The scent of incense fills the air. The parade is accompanied by solemn music (the saeta), which adds to the whole atmosphere.
The entire scene is deeply moving, and even those who have seen it countless times cannot help but be caught in its fervor and atmosphere.
There are around 50 processions in Cordoba during the week, with each procession symbolizing a certain situation in the life, passion and crucifixion of Jesus. Members of the "cofradias," or brotherhoods, carry the statues of Jesus and Mary around the streets.
When visiting Cordoba during the Holy Week, be sure to book your hotel well in advance. The Holy Week celebrations in Cordoba and the rest of Spain draw a lot of people, sp that hotels are usually fully-booked for the occasion. Wear shoes that are made for walking, as you will have to walk a considerable distance to keep up with the procession.
The best places to position yourself in order to get a good view of the procession would be in the courtyard of the Mosque, at the Roman bridge, in the Jewish quarter, and the Plaza de Caphuchinos. Be prepared for large crowds.