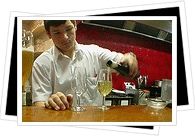 Cata de Vino
During the first week of May, the city center celebrates the Cata de Vino-Montilla Moriles Cordovan Wine tasting. Sip your way into good wine at a huge tent in the city.
The International Guitar Festival
This festival attracts a bevy of major artists to the city. Spanish and international guitarists flock to share in the joy of their art and in the joy of playing the jazz, flamenco and modern guitar music. This includes flamenco artists Paco Serrano and Paco de Lucia; Jazz and Modern guitarists B.B. King, Mike Stern and Carlos Santana; and classical guitarists Leo Brouwer, Elliot Fisk and Pepe Romero.
The Guitar Festival runs for two weeks, usually in July. With the strains of the guitar reverberating throughout the city, Cordoba becomes the world's guitar capital. There are concerts held at various indoor and outdoor sites, such as Alcazar Gardens, the Gran Teatro and the Correderra Square.
You can get further information on the Guitar Festival by visiting its website: www.guitarracordoba.com.