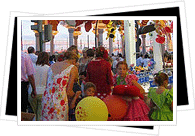 Every Cordoban opens up their home and patio to the delight of neighbors and tourists alike during the Festival de los Patios. Held on the 2nd week of May, the Festival de los Patios is literally a city-wide search for the best and most beautifully designed patio.
The patio is a characteristic fixture in the Cordoban home. It is where friends and families meet to chat and have a drink, especially during warm summer nights. The patio is so essential that virtually all the rooms in the house – the living rooms and the bedrooms – are arranged around it. The patio is a pleasure, for in that small space you can get away from the hustle and bustle of the city and just relax at your own pace.
This festival traces its roots in 1918 to honor the locals' efforts to retain and maintain these traditional areas in the home. As an incentive, awards are given to those with the best patios.
This is your chance to go house-hopping, or rather, patio-hopping. The residents open their homes and let you see the care they have bestowed upon their plants and flowers. In Cordoba, exploring the streets is enjoyable enough, but getting into the private houses - some several centuries old - is really a delight. The patio is an oasis filled with the scent of flowers and the coolness of the air.
Be sure to get your map from the Tourism Office. The map shows a listing of where to find all the patios that participate in the Festival de los Patios each year.