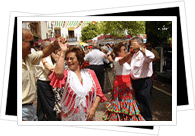 Here are the City Center's offerings when it comes to culture:
New Year's Eve parties are grand celebrations held at the Plaza de la Corredera. Locals and tourists alike flock to this square to give the countdown towards the coming year.

Las Cruces de Mayo. See elaborately designed and adorned crosses in the center's plazas and squares.

Cato de Vino. During the first week of May, a huge tent is set up in the city center. Drink your fill of sweet Moriles or Montilla wine.
Museums
The Museum of Archaeology has a breathtaking collection of treasures that show the richness of Cordoba's culture and history. Discover prehistoric sculptures, Roman mosaics and statues, and artifacts from the Visigothic, Iberian and Roman era.

The Leather Museum pays tribute to the artistic legacy of leather crafting. A unique collection that can't be found anywhere else in the world.
Performing Arts
Flamenco performances are staged at the La Buleria, near the Plaza de la Corredera

Conservatorio de Musica Y Escuela de Arte. This music school provides regular performances of classical and traditional Spanish songs

Gran Teatro. Go here for ballet performances, concerts and plays all throughout the year.
Food
Food, of course, is another way of expressing one's culture and at the city center, it is expressed in different ways…
Tapas (Taberna Salinas and other nearby tapas bars)

Traditional Andalusian Cuisine (Restaurante Circulo Taurino, La Nueva Malaguena and other Spanish restaurants)