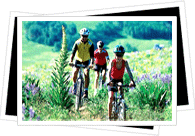 With the sun on your face and the wind through your hair, enjoy the thrill of biking through peaceful landscapes and spending a day in relaxing tranquility while passing through quaint villages or historical and architectural monuments. These things can be yours by taking advantage of biking opportunities in and around Cordoba.
There are miles and miles of trails in the Cordoba province that provide a chance to indulge in biking according to the level of difficulty you prefer. There are also three major natural parks where you can enjoy nature beauty and bounty: the Sierra de Hornachuelos, the Subbetic Highland and the Sierra de Cardeña y Montoro. These and other areas are also great for bird-watching.
Popular Biking Routes:
Sierra de Hornachuelos Natural Park: Start at Hornachuelos. Length of trip is around two to four hours. The route will pass by forests filled with ash trees, alders and willows. Visit the nearby town of Almodovar.
Sierra de Subbetica Natural Park: You may start from three points: Carcabuey, Zuheros or Rute. This is an easy to medium route and will take anywhere from two to five hours. The route will pass through mountain ridges, weathered limestone rocks and a bat cave ("Eva de los Murcielagos"). Nearby towns are Priego de Cordoba, Luque and Cabra
Sierra Morena: There are plenty of starting points to choose from: Cordoba, Alcolea, Fuente Obejuna, El Cerillo, or Santa Maria de Trasierra. This is an easy to medium route and will take three to four hours.
Sierra de Cardeña y Montoro: Start from Montoro or Cardeña. This route will take around two to five hours to finish. This is a wildlife sanctuary with lots of endangered species, hike to the neighboring towns of Cardeña and Montoro.