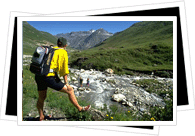 One of the best ways to appreciate Cordoba's beautiful and diverse natural landscape is on foot. There are miles and miles of trails in the Cordoba province that provide a chance to indulge in hiking according to the level of difficulty you prefer. There are also three major natural parks where you can enjoy nature beauty and bounty – the Sierra de Hornachuelos, the Subbetic Highland and the Sierra de Cardeña y Montoro. These and other areas are also great for bird watching.
Explore Cordoba on foot using these routes:
Sierra de Hornachuelos Routes
Sendero de Arroyo de la Rabilarga: Only 700 meters and is highly enjoyable because of the plants and trees (elms, oleanders, wild olives and poplars) along the way.

Sendero del Cordel del Aquila: With 12 kilometers, this is a route of medium difficulty because there are some steep areas that you need to climb.

Sendero del Bembezar: An easy, 13 kilometer route that is long but mostly flat. It goes along the Bembezar river to the reservoir. This area has the largest population of vultures. It is recommended that hiking in this trail be done only from August to December. This is to avoid disturbing the vultures, especially during their breeding season. Also, permission must first be obtained from the environment department before hiking the trail. (Call 957 00 33 00)

Sendero del Guadalora – quite easy, with a linear path 7 kilometers long. Stretches from the Huerta del Rey Visitors' Center and will pass the La Paloma watermill down to Pasada del Algeciras.

Sendero de las Herrarias – 4.8 kilometers long and is quite an easy hike. Starting from the Huerta del Rey Visitors' Center, go through Finca San Bernardo.
Sierra de Cardeña y Montoro Routes:
Sendero Cardeña-Aldea del Cerezo – quite easy 7.5 kilometers, you will go through the mixed pasture and woodland to finish this.

Sendero Aldea del Cerezo-Venta del Charco – the easiest walk by far, a linear walk through oak and cork trees and hunting estates. It climbs up the Loma del Garullo, where you will be rewarded with stunning views of the Sierra Morena.

Sendero Vuelcacarretas – again, this 7 kilometer-long hike will go through cork oak woodland

Sendero Azuel-Aldea del Cerezo – 12 kilometers across oak woodland and fields of cattle.
These are other routes you may want to take: 1. Almenidilla to the Sierra de los Judios Mountains route – this affords you a view of some archeological sites and pathways through olive groves. 2. Routes on the Sierra de Subbetica Natural Park – ask the tourism office for a map on these routes.