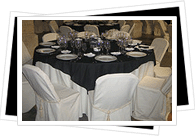 Here are the international food offerings in Cordoba:
Il Caffé di Roma
This Italian coffee house is close to most of Cordoba's main attraction It serves coffee, tea, ice cream and pastry specialties.
Address:Plaza de las Tendillas, 14003 Cordoba
Telephone: +34 666 594322
El Novillo Precoz
Savor the tastes of cuisine from Argentina and Uruguay. The grilled meat (from a young bull) comes highly recommended. The interior design is also made to reflect life in rurual South America.
Address: Calle Caballerizas Reales 10, 14004 Cordoba
Telephone: +34 957 201828
Opening Hours: 1:00 to 4:30 p.m. and 8.30 p.m. to 12:30 am
Closed on Sunday evenings
Confucio

For veritable Asian treasures – specialties from China, Thailand, Malaysia, Japan and other Far East countries.
Address: Avda. Gran Capitán 46, 14001 Cordoba
Telephone: +34 957 402024
Opening Hours: Noon to 4:00 p.m. and 8:00 p.m. to midnight
El Sultán
Located in the historic Jewish Quarter, this serves tantalizing Arabian dishes.
Address: Calle Martínez Rucker 4, 14003 Cordoba
Telephone: +34 957 479571
Opening Hours: 12 noon to Midnight
L'Olio
Hankering for some Italian food? L'Olio is the place for you. It also serves other international dishes.
Address: Avda. Gran Capitán 48, 14006 Cordoba
Telephone: +34 957 273876
Opening Hours: 1:30 to 4:00 p.m. and 8:30 p.m. to midnight
Closed on Mondays