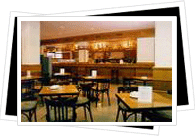 Even when dining on a budget, you can still enjoy great food at these restaurants that offer inexpensive meals. And, oh, by the way, tapas bars are also excellent ways to taste all the cuisine Cordoba has to offer at an excellent price.
Restaurant Cafetin Halal
(Calle Rey Heredia, 28)
Serves excellent yet inexpensive meals. Great for vegetarians.
Restaurante-Meson Campanero
(Calle Gondomar)
Entrees range between €10-14. They also serve tapas where prices begin at €7 per serving.
Amore Bona Pasta
(Calle Reyes Catolicos, 17)
Pizza and pasta at very affordable prices.
La Fragua
(Calleja los Arcos, 2)
Home made cooking accompanied by flamenco music. Try the tapas, too.
Bar Santos
(Calle Magistral Gonzalez Frances, 3)
You can get meals for under €6 here. Small bar with no seats, but very cozy. Prices are very, very reasonable.
Campanero
(Calle Gondomar)
The menu of the day is priced at only €7.50, a great price for very good Mediterranean food.
El Tablon
(Cardenal Gonzalez, 69)
Choose from the menu of the day, which only costs €9 for two plates plus drink and desert. A small bar with no seats, brings you back to the 19th century.
Federación de Peñas
(Calle Conde y Luque, 8)
Cordoba style oxtail and seapike and Serrana style pork roast are among the specialties. Menus of the day range from €10 - 12.50.
Hostal El Pilar del Potro
(Calle Lucano, 12)
Combo plates with chicken breast, pork chops or veal starts at €5, pizzas at €4 and sandwiches at €2.
La Abacería
(Calle Corregidor Luis de la Carda, 73)
Meals range from €6 to €10. Located on the west side of the Mezquita, close to the tourist office.