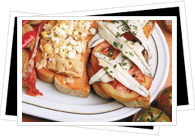 Tapas are small portions of food, usually eaten standing up with a drink in the other hand. It is composed of virtually anything – just small portions of it. Tapas come in different kinds – cheese, ham, squid, what have you. This way, you get to taste a lot of Andalusian specialties without having to pay an arm and a leg for your adventures.
Here are some of Cordoba's tapas bars, the best of which you'll find near the Mezquita and the historic Jewish quarter.
Taberna Salinas
(Calle Tundidores, 3)
Very popular with the locals, as it has an excellent selection of tapas. Expect a crowd.
Bodega Taberna Rafaé
(End of Calle Deanes)
Located near the Mezquita. A good spot to stop for lunch.
Taberna Guzman
(Calle Judíos)
Try their Moriles wine! And take you fill of the bullfighting memorabilia that covers the walls.
Taberna Sociedad de Plateros
(Calle San Francisco, 6)
Near Plaza del Potro. Fine selection of tapas.
Casa Pepe
(Calle Romero, 1)
Small bar but with bigger portions – ½ racion is big enough for two people to share.
La Cordobesa
(Plaza Benavente)
Great place to relax, quiet.
Taberna San Miguel
(Plaza San Miguel, 1)
Located North of Plaza Tendillas, behind the San Miguel church.
El Sotano
(Plaza Corredera, 1)
Family owned and has a rich menu list of tapas.
La Esquinita
(Calle Romero, 2)
Great to have a quick snack before heading for the Mezquita
La Cavea
(Plaza de Jeronimo Paez)
Near the Archeological Museum. Has a shaded terrace where you can relax while nibbling your tapas.
La Abaceria
(Calle Corregidor Luis de la Cerda, 73)
Also called Casa de la Tapa Cordobesa. Near the Mezquita. Very cozy.
La Viña del Señor
(Bulevar Hernán Ruiz, 27)
Known for its wine tavern – in fact, it is part of the Montilla-Moriles Wine Route. Also offers great tasting tapas snacks.