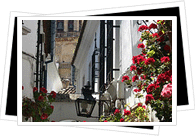 Here are some of the must-see places that you should include in your tour of the Jewish Quarter:
1. Calleja de las Flores (Flower Alleyway)
The white walls are fairly bursting with hundreds upon hundreds of bloom. This is among the prettiest places in the Historic Quarter.
2. Cordoba Synagogue
Its very existence makes it a treasure, since there are only three remaining synagogues in the entire Spain, after the Jews were driven out of their communities. This is the synagogue where the renowned physician, Maimonedes, prayed.
3. Puerta de Almodovar
One of Cordoba's city gates and also the most well preserved. This was part of the impressive city wall system that lent protection to the city during ancient times. The city walls are lined with gardens and fountains.
4. Souk
This market exudes a distinctly Moorish air. This is where you can buy souvenirs made by local craftsmen.
5. Statues
Here are some of the important monuments in the Historic Quarter:
Maimonides statue – Rub his shoe for good luck!

Monument of the philosopher Seneca (near the Puerta de Almodovar)

Sculpture of Averroes (also a philosopher)
6. Arabian Baths
To the west of the mosque, there is a modern Arabic bath. This recreation of the antique ones (there were more than 400 during the Moorish era!), is a relaxing experience.
7. Tapas Bars and Restaurants
Don't leave the Historical Quarter without sampling the tapas and beer from the many taverns, tapas bars and restaurants that are in profusion in the area.