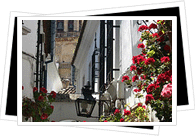 Cordoba's Historic Quarter is one of the most enchanting places in the city. It has kept its spirit, culture and panache over the centuries. That is why it brings much joy to those who amble along its narrow streets, discovering treasures and spectacular monuments along the way.
The Historic Quarter is full of culture. Landmarks, monuments, historical buildings dot the streets, particularly in the Jewish Quarter. La Juderia (the Jewish Quarter) once stood as a cultural and intellectual center of the whole region, gifting the world with such personalities such as the physician Maimonedes. There is also a wealth of Moorish architecture to be found here. UNESCO declared the Jewish Quarter and other landmarks (the Mezquita and the Royal Fortress) as a world cultural heritage of mankind.
Here is a rundown of the cultural hotspots in the Historic Quarter.
Houses
The whitewashed houses are a wonder to behold, particularly because of the colorful blooms that overflow from the balconies and the courtyards.
Streets
The typical Andalusian streets of the Historic quarter are a joy to meander in. It is easy to just shuck the map and go wherever your feet lead you, whether to the enchanting Jewish Quarter, the Arab baths, the Bullfight Museum and more.
Synagogue
In the center of the Jewish Quarter stands one of the three remaining synagogues in Spain. It is built in the Mudejar style and dates back to 1315. It is quite small, but surprisingly high. The synagogue can accommodate only around 30 people at a time. There is a gallery dedicated to women. The walls are plastered with white decorations filled with Hebrew inscriptions.
Address: Calle Judíos
Opening Hours Mondays: Closed
Tuesdays to Saturdays: 10:00 a.m. to 2:00 p.m. and 3:30 p.m. to 5:30 p.m.
Sundays and holidays: 10:00 a.m. to 2:00 p.m.
Admission Fee EU residents: free
Non-EU residents €0.30
Bullfight Museum. Ole! This museum is dedicated to the bullfighting tradition of Cordoba and of Spain.

Leather Museum. Features the artistic and historic legacy of leather working
There are many flamenco clubs in the historic quarter, especially in the area in front of the Mezquita.

Tablao Cardenal (Calle Torrijos, 10)

Mesón la Bulería (Calle Pedro López, 3)