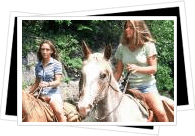 Here are some great ways to tour Cordoba:
1. Horse and Carriage
Go around Cordoba accompanied by the clip clop of the coches de caballo (horse carriages). If you're interested, you can find awaiting horse carriages around Plaza Campo Santo. Tour Cordoba in the most old-fashioned and romantic way. Perfect for sweethearts! Before climbing on in, be sure to negotiate and agree upon a price. This way, there will be no arguments at the end of the ride.
2. Segway Tour
You get a 2-hour tour of Cordoba atop your own (rented) Segway. It will take you to spots that are easily missed by a tourist.
3. Vision Walking Tours
Walk your way to Cordoba's major tourist destinations, such as the Synagogue, Mezquita and the Alcazar. What you pay includes entry fees to all attractions.