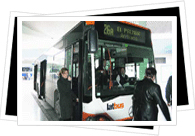 What's good about riding the bus is that most bus stations have clear route maps and diagrams. The one-decker buses are also highly colorful.
When riding a bus, it is pay when you board system and the payment is to be given to the driver. If you plan to take a lot of bus rides, get a bus card. It will be more convenient. A bus card costs six euros for ten bus trips. You can also buy discounted multi-tickets in packs of 10.
City buses are generally efficient and reliable, but they can get crowded. The first trip usually starts at 6:30 a.m. and continue until midnight.