Here is a run-down of the plazas of Cordoba:
Plaza de la Corredera
Near the town hall, this square used to be a Roman amphitheatre, a bullfighting ring and the site of rather unpleasant executions during the Inquisition. It has remained virtually unchanged and looks the way it did during the 17th century. This was designed by the Salamanca-born architect Antonio Ramos.
Today, this is where the city assembles to celebrate New Year's Eve. There is also a wealth of tapas bars and restaurants around this square. You can also watch flamenco performances here during the summer.
Plaza del Potro
A pleasant square with orange trees and lots of patios and houses. It was named after a fountain which was built in 1577. A filly (horse) topped this fountain, thus giving the square its the name: Plaza del Potro (Square of the Filly). An important landmark is the old Potro Inn (Posada del Potro). Miguel de Cervantes mentioned this inn in his book, Don Quixote. On Armas street, there is a workshop owned by Jose Reyes Maldonado where you can find hand-crafted guitars. On one side, the Sociedad de Plateros hold sway. Close by there are well known taverns and flamenco clubs.
Calleja de las Flores
This narrow alleyway has an abundance of flowers hanging from its walls- a truly picturesque site.
Tendillas Square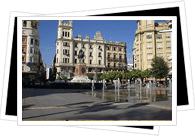 This is located right at the center of Cordoba, between Cordoba's city center and the historic Jewish quarter. This square is filled with pedestrians and is a favorite meeting point. There is a large statue of Gran Capitan atop his horse. There are a lot of fountains in this square, which provides cool breezes particularly during the summer.
Plaza de los Caphuchinos
This is one of Cordoba's smallest squares, but also the most enchanting. The square is utterly beautiful come nightfall, when all the lanterns are lit and a romantic glow surrounds the square. There is also a remarkable statue of the Christ. This square is off the beaten path, meaning there are just a few tourists in the area.
Plaza Jerónimo Páez
The Archeological Museum is located in this plaza, as well as the remains of the third largest amphitheater of the Roman empire. The remains of the amphitheater form part of the Archeological Museum.
Cuesta del Bailio
Once upon a time, this sloping street (and the wide staircase) connected uptown and downtown Cordoba. This is where the people gather to take part of the Cruces de Mayo (May Crosses) Festival, when the locals work to best adorn large crosses with stunning floral arrangements.
Calleja del Pañuelo
This narrow alley is rightfully called Handkerchief Alley, as it is among the narrowest streets in the entire country. Imagine two people standing on both sides of the alley, the distance between them is just about the same size of a handkerchief.