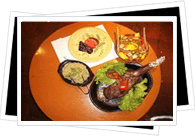 Food is intrinsic to Spanish culture. If you want to get to know them, you have to know how and when they eat. Compared to normal meal times throughout the rest of the world, Spain's meal schedule may come as quite a surprise! Spanish meals are not only about eating, but also about relaxing, enjoying life and having a good time with family and friends.
Here is what a typical Spanish day looks like, in terms of meals:
El Desayuno (Breakfast)
- Breakfasts, if eaten at all, are usually light affairs. Sometimes, breakfast is just a little something to nibble on, such as a roll with marmalade, a croissant or toast.
- These are typically accompanied by hot chocolate or coffee with milk (café con leche)
- Another breakfast option you may want to try are churros. These stick-like pastries are deep-fried and often dunked in a cup of thick hot chocolate.
- Breakfast is generally eaten before 10:00 a.m.
Café – Coffee Break
Spaniards love their coffee – and how! The typical office worker would go to the nearest café at around 10:30 a.m. to noontime to get their caffeine charge. They sometimes take this with a bit of toast.
Here are some coffee choices:
- Café – when you say café, this would mean a shot of expresso – a sure pick-me-up that would get you going for the rest of the day!
- Café Solo: A shot of espresso with no milk added.
- Café cortado: A shot of espresso with just a bit of milk
- Café con leche: A shot of espresso with a more or less equal amount of milk.
- Café Americano: For those who don't like their coffee as strong as the Spanish take it, a café americano is a watered down version.
La Comida – Lunch
- The Spaniards take this meal seriously. So seriously, in fact, that some stores close down so that people may go home to eat la comida with the family. After a heavy meal, the family settles down for some siesta time.
- La comida is the most important meal of the day and usually consists of three courses, plus a dessert. This meal is then capped by some coffee.
- This comes late in the day, around 2:00 to 4:00 in the afternoon
- Restaurants post a menu del dia that shows what today's specials will be. It is a three or four-course meal. These are great deals and often come with several choices.
La Merienda – Late afternoon snack
- Fortify yourself with a light snack or a second coffee break.
- La merienda typically consists of a light sandwich or a pastry.
- La merienda is generally taken anywhere from 5 to 7 p.m.
- Be sure to eat up, as your next meal will be served much later in the day.
La Cena – Dinner
Dinner is usually served late in the evening, typically between 9:00 and 10:00 p.m. However, don't be surprised to find some people dining at midnight- especially on weekends and during the summer months!
- Dinner at home is usually lighter, when compared to lunch. A Spanish dinner would usually be made up of a light sandwich, a tortilla (omelette), croquettes, or huevos (eggs).
- Tapas are often eaten as dinner. Tapas are usually eaten standing up and with a glass of wine or beer. This is one great way to chat with your friends while satisfying your dinner-time hunger.