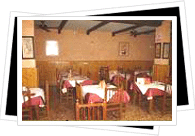 After a day's of trolling the streets of Cordoba and visiting the different tourist attractions, you should set aside some time to relax and unwind. But hey, touring Cordoba's bar scene is part of discovering Cordoba's fascinating personality as a city.
The bars, pubs and taverns exist in abundance and offer a wide range of drinks and tapas. There are even bars that are part of the Montilla-Moriles Wine Route. This offers you a list of bars to visit if you want to have a taste of Montilla-Moriles Wine.
Cordoba is a great city and a great place to find new friends. Let's drink to that!
El Juramento (Calle Juramento, 6)
Has an excellent reputation built on 100 years of serving great food and drinks. Close to the Plaza de la Corredera
Taberna Salinas (Calle Tundidores, 6)
Traces its history from 120 years back. Received the "Compromiso de Calidad Turistica" award for its outstanding service and quality.
Paco Acedo (Calle Adarve, 28)
Said to be the "birthplace" of the rabo de toro (bull's tail).
Taberna San Miguel (Plaza San Miguel, 1)
A tavern with an excellent tradition of delicious regional dishes and great beer
Sociedad de Plateros (Calle María Auxiliadora, 25)
Great selection of Montilla-Moriles wine which makes it a part of the Montilla-Moriles Wine Route.
Mesón Los Lobos (Plaza San Ignacio de Loyola, 4)
Its wine cellar boasts of an impressive range of wines.
Bar Plateros (Calle Deanes, 5)
Specializes in Montilla wine. Has a good selection of tapas, too.
Hotel Hesperia (Avenida de la Confederación, 1)
This hotel has a rooftop bar which is open only during summer.
Media Luna (Calleja de la Luna, 3)
Has great flamenco and belly dancing shows.