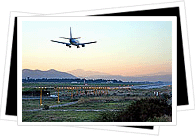 Cordoba has an airport 10 minutes away from the City Center. This airport is serviced by buses 15 times a day on weekdays (trips are from 6:30 a.m. to 8:30 p.m.), 11 trips on Saturdays and 9 trips on Sundays. There are also taxis that can bring you to and from the airport.
However, the Cordoba Airport is quite small and has limited equipment. Thus, there are no regular passenger flights into this airport, only business and freight trips. What we recommend is that you take a flight to the Madrid and Malaga International airports and the Seville Airport. You can enter Spain through these airports and then take a bus or train to Cordoba.
Malaga Airport
The Malaga Airport is able to serve a lot of international flights. It is, after all, one of Europe's largest airports – serving millions annually. The Malaga Airport is a quite huge! There are all kinds of facilities that make traveling enjoyable and convenient. There are banks, foreign exchange offices, rent-a-car offices, a duty-free shop, shopping mall, bars, restaurants, children's playground, police station, telephone booths, and car parking facilities.
The airport is 8 kilometers from the Malaga City Center. You can take a taxi from the Malaga Airport to the City Center, from there you can take a bus, train, or taxi to Cordoba.
Address: Avenida Garcia Morato, s/n, Malaga
Telephone : +34 952048484; 952048838 (Arrivals); 952048804 (Departures)
Webpage: www.aena.es
Madrid Barajas Airport
This airport is also able to serve quite a number of international flights. The airport has two banks (one a 24-hour bank), several foreign exchange offices, restaurants, cafes, bars, shops (duty-free or otherwise), pharmacies, nurseries, and a medical service center. There are also five fully equipped meeting rooms, a conference and business center. The Madrid Barajas Airport has three terminals – Terminal 1 for international flights, Terminal 2 for domestic Spanish flights and flights to some EU countries, and Terminal 3 for Iberia domestic shuttle and Iberia/Air Nostrum regional flights.
Address: Madrid Barajas Airport, 28042 Madrid, Spain
Telephone: +34 913 936000
Webpage: www.aena.es